AS THE ECONOMY BOUNCES BACK, HOTELIERS FACE CHALLENGES

By Russ Rivard, U.S. Hotel Appraisals

The negative impacts of COVID-19's 2020 pandemic have been widespread, and its effects on the U.S. economy are still being measured. Given the surge in COVID vaccinations during the first quarter of 2021, the U.S. population has started to feel better about being able to leave their homes to go back to office life and to travel. This pent-up demand and urge to travel is a good thing, as numerous travel-industry companies, such as national airlines, have experienced increased sales; however, many hotel operators have realized significant challenges despite the growth in demand. Ironically enough, some of these challenges exist because of our government's well-intended reaction to the pandemic.

Thus far, the government has completed two of three rounds of stimulus payments to millions of households, some that still have unemployed workers. Many of these unemployed, lower-waged workers have received both the stimulus checks combined with unemployment payments, which have temporarily allowed many to hold off on reentering the workforce. The reasons for not reentering could be due to childcare issues, safety concerns, or even a decision to enter another line of work. Either way, with this government support, it would cost many workers more to go back to work than to continue to take advantage of this government money and stay at home. The chart below indicates that many of the workers who would typically reenter the workforce have not filled open jobs; thus, this gap has left many companies in a tight spot.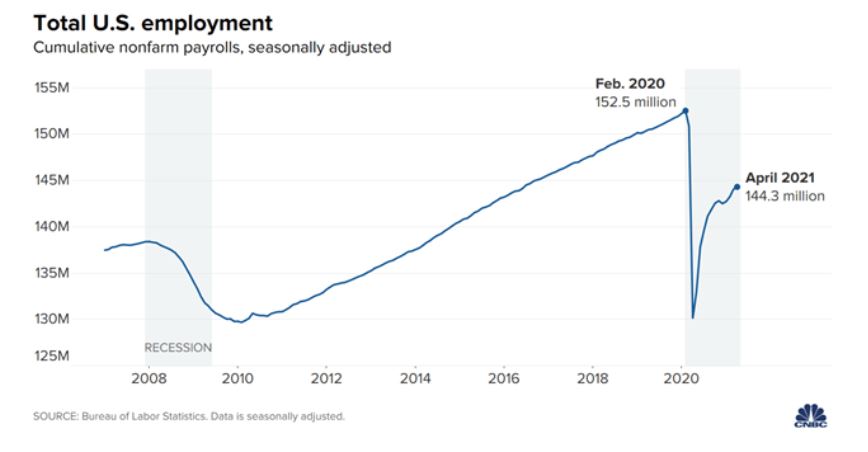 As numbers of lower-waged workers stay home, small business owners are suffering to recover despite increases in demand. For example, as the demand for travel increases, many hotel operators are ill equipped for the surge. As room-night demand grows, hotel operators have numerous jobs to fill, yet workers are not showing up. Hotel housekeeping, food and beverage, and maintenance departments are critical for a hotel, and not having these positions adequately filled causes substantial strain on the business. These pressures fall on the existing workers who are forced to pick up the slack and work additional overtime hours as they try to keep the hotel operating sufficiently.

This limitation will continue to put pressure on hoteliers, and other small business owners, as they struggle to meet the new demand. As hoteliers offer perks like higher wages, more flexible work schedules, and sign-on or retention bonuses, many suggest that this pressure on higher wages will also hurt the industry. As employment numbers and inflationary pressures continue to haunt hoteliers, they realize that they have a business to operate and understand that, for now, they need to find more innovative ways to hire workers. As such, they will need to focus on ways to attract and recruit new workers and to remain flexible in this new challenging environment.